This is one of the most confusing topics that has many different answers, as there are different types of warranties that cover certain things such as parts, and other types of warranties that cover labor and parts.
Most manufacturers for residential units will have a 5 year parts warranty that will cover any failed component within the system, although more manufacturers are offering up to 10 years on parts now. Some of these parts are the evaporator coil, compressor, fan motor, blower motor. The most common misconception is that just because a unit is under manufacturers warranty does not mean LABOR is covered also.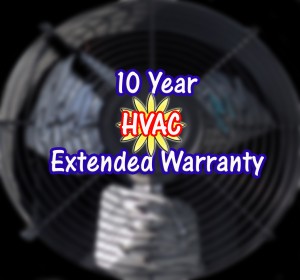 If it's a part such as a capacitor that goes bad, and the air conditioning service technician sticks you with a $200 bill, that's all for the labor to diagnose, repair, and ensure that the air conditioning system is functioning properly. Though don't take that number to heart for the price of a capacitor replacement it could be a lot less or lot more, especially if the service is being done after hours.
The other type of warranty that I would personally recommend to anyone that purchases a new air conditioning system, is a 10 year extended warranty. It will be an additional cost to your new system but it will more than likely pay for itself with just a couple service calls.
You may need it and you may never have anything go wrong with your air conditioner, but for the competitive prices that are out there for extended warranties, it's well worth the piece of mind your going to get should you have a bad compressor or evaporator coil 6 years down the road.
So How Do I Find Out if My Hvac System is Under Warranty?
You are going to have to call the manufacturer of your air conditioning system. You are going to need a couple pieces of information, such as the model# and serial# from both the air handler and condensing units. If you have a Carrier or Bryant you are going to need the product# and serial#. Should you call for service from an air conditioning company they should be able to find out all this information for you with no problem.
Manufacturer Warranty Websites
Trane – 855-260-2975
What Does an Extended Warranty Cover?
There are different Extended Warranty companies but from my experience they will cover all major components within the system and the labor. Some of the things they won't cover are a gas and go, which is just filling up the system with freon. If there is a freon leak, the hvac service company will have to find the leak and make the repair, and within the repair the freon will be covered by the extended warranty in that case.
Most Extended Warranty companies require that you get preventative maintenance done on your air conditioning system at least annually. Air conditioners are not designed to run efficiently without having maintenance at least yearly, you wouldn't expect to drive your car for ten years without changing the oil or replacing the battery would you?
Hvac Warranty Tips and Recommendations
I will say it again – get an extended warranty if you can. It will last 10 years from the date of installation. Should you have had a new Hvac unit installed within the last couple years you may still qualify for an extended warranty.
If you don't have an extended warranty and you keep having to have an hvac technician gas up your unit with freon, you need to get the leak fixed. There have been instances where an evaporator coil keeps leaking and a technician would keep gassing it up every six months, and before you know it that evaporator coil, that part, is out of warranty. Pay to get the leak search, it could be the difference of $1000 or more for the part if it's out of warranty.