If you are here to learn how to install a condensing unit, you better be HVAC certified to do so, especially if you are removing, and recovering the refrigerant out of the old condensing unit.
Here's a list of the main HVAC tools are needed when installing a new air conditioner condensing unit on a split system.
Recovery machine and Empty recovery tank
Vacuum Pump
Refrigerant Gauges
Copper Cutters
Refrigerant Scale
Torch Set with Brazing Rods
Various other Hand Tools
I made a video on how I installed a brand new Goodman condensing unit and divided it into 17 different steps.
[youtube id="bfVYPHUTc1U"]
Step 1 – Recover the Refrigerant from the Old Condenser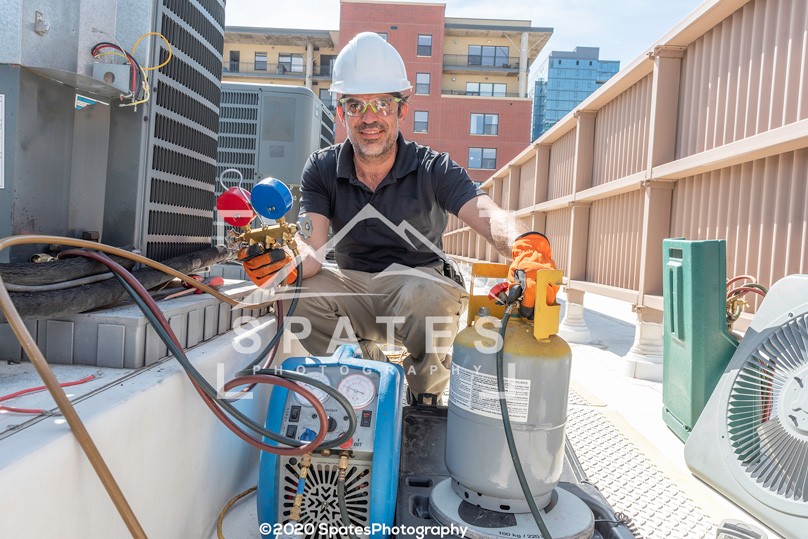 Disconnect the power to the condensing unit. Make sure that the low voltage lines don't have power going through them by securing the breaker to the air handler, as you could short out a transformer if your not careful.
Hook up your refrigerant gauges to the old unit, and charging hose to the recovery machine. I choose gas most of the time. Recommend using a liquid line filter before the recovery machine. Hook up hose from the output of the recovery machine to the empty, clean, recovery tank.
Purge air out of refrigerant gauges, open inlet on recovery machine. Purge recovery machine. Open outlet, open Recovery tank. Turn on Recovery Machine. Depending on the type of recovery machine you have, set to recover either gas or liquid depending on how you hooked up your recovery tank.
Step 2 – While Refrigerant Recovery is in Progress, Uninstall Electrical Wiring
As well as any whip clamps, hurricane brackets, etc. Peel back the suction line insulation. Start sanding the liquid and suction line joints for brazing.
Step 3 – Cut the Liquid Line when Refrigerant is fully Recovered
Your refrigerant gauges should be reading a vacuum. Although many professionals I've worked with will sweat out both lines to save time, you never know if there's still trapped refrigerant in the system. It's safest to cut the line open, drill a hole in the copper, or at least remove the Schraeder valves if you must un-sweat both lines.
Step 4 – Cut the the suction line to the condensing unit
Some HVAC technicians will sweat out the suction line to save time, or if the copper line is a tight fit. Be sure to use caution, there shouldn't be any excess refrigerant left in the HVAC system but I've seen on some commercial HVAC have built up back pressure. Sweating out copper lines also creates black flakes inside of the line because of the oxygen, which may increase your recovery times.
Step 5 – Prepare the New Condensing Unit for Install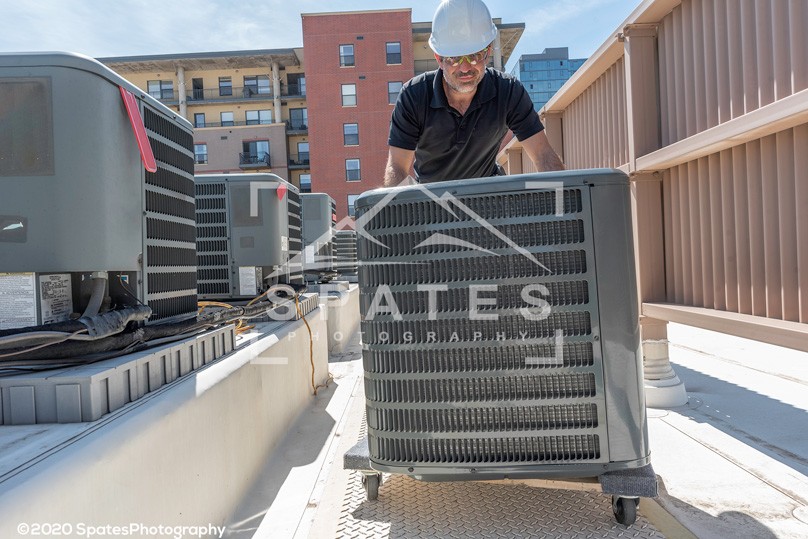 Having a helper is a good idea, especially when removing the old condensing unit and placing the new condensing unit in place. If you need to install a liquid line drier or suction line drier for burnouts, have those ready and prepped so you can braze them all in at once.
Step 6 – Prepare copper lines, driers for brazing
Sand, use flux, make sure that all of your copper connections are tight. You don't want a pipe pushing back on you once you start heating it up. Small bends in the copper pipe can help keep the connections tight until you can secure it with the solder.
Step 7 – Protect your King Valves from Overheating
Best way to do this is to wrap with a wet rag. They also make heat sync spray that works well, but can also be a little messy. Some HVAC technicians will remove the Schraeder valves to prevent the seals in those from over heating and melting.
Step 8 – Sweat the copper lines into the Condensing unit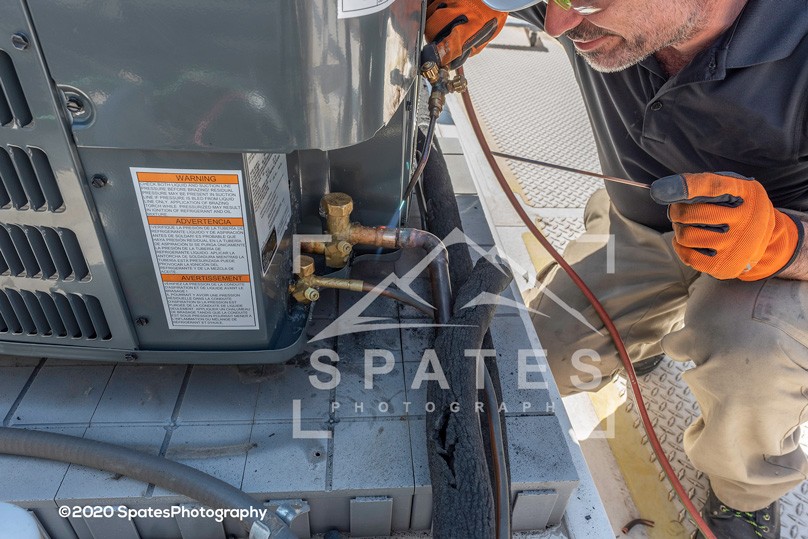 Use caution when brazing to not get the lines to hot. Depending on what size line you are soldering will determine the amount of heat that is needed.
It's also good practice to braze with about 1-2 psi of nitrogen inside of the lines, which will displace any oxygen in the system, and help you with the refrigerant evacuation.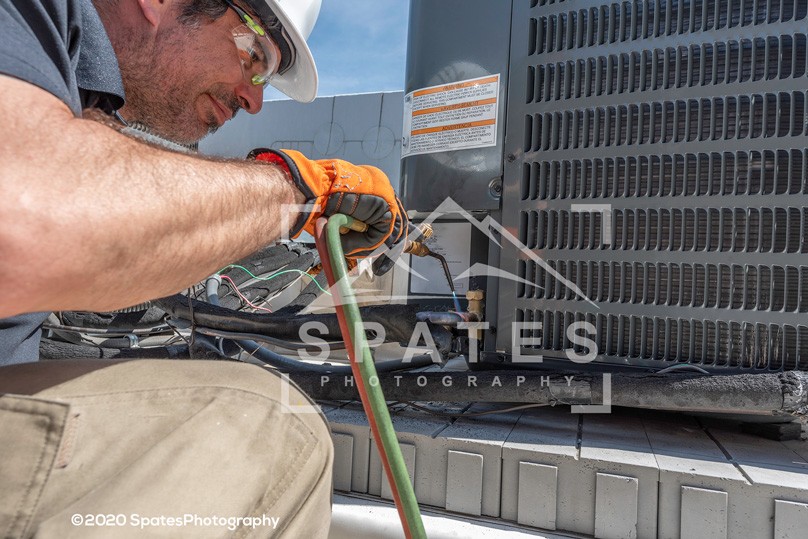 Step 9 – Pressure test your Fittings with Dry Nitrogen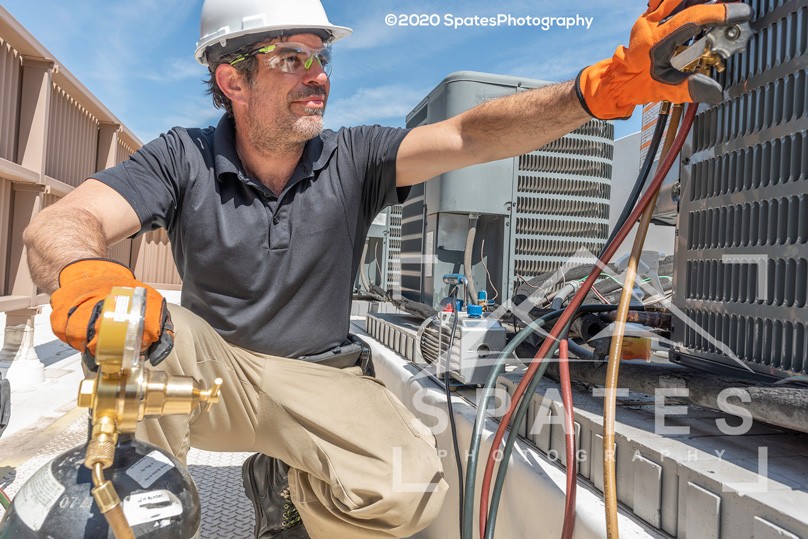 You want to add at least 200 psi of nitrogen to the system. Use soap bubbles on the joints you brazed to test for any leaks. If you have a pin hole leak and you set up the vacuum to evacuate, not only will you waste time, you will be pulling constant moisture into the system. This is why I always pressure test with nitrogen before evacuating a system on a new condenser install.
Step 10 – Triple Evacuation on your New Condenser Install
There are many HVAC evacuation set-ups that can be used. Some have dedicated manifolds with larger hoses. If you have the Shraeder valve removal tool that's rated for evacuation these can speed up the process. Most HVAC equipment manufacturers recommend evacuating the system to 500 microns, break the vacuum with nitrogen, then evacuate again to 500 microns, repeat this once more for triple evacuation.
Step 11 – Hook up Electrical to the New Condensing Unit
While your system is evacuating you can hook up all the necessary electrical. Secure with hurricane brackets if applicable. Clean up any barred low voltage wiring and make sure everything looks clean inside and out.
Step 12 – Install anything extra that's needed
Goodman Units paired with TXV's, where the condensing unit is above the air handler require a Hard start kit, as I found out the hard way here. Double check all of your electrical connections again before putting the service panel back on.
Step 13 – Change the Vacuum Pump Oil between Evacuation
This can speed up the evacuation process to get down to 500 microns. I will usually do this after the second pull to 500 microns.
Step 14 – Clean up your HVAC tools that you don't need
You can do this on the first or second evacuation. Whatever works best time wise. I usually don't put the HVAC torch set and nitrogen away until after I reach 500 microns for the first time.
Step 15 – Valve off system from micron Gauge
Then break the vacuum with refrigerant. I will only go until the refrigerant gauges read about 1 psi, anything over vacuum will do.
Step 16 – Open the King Valves with the aid of a refrigerant ratchet
Any Allen key will work but the refrigerant ratchet can save you a ton of time. Make sure that the pressures on your gauges equalize.
Step 17 – Restore power to the New Condensing Unit
Turn on the thermostat. Monitor the refrigerant pressures for a few minutes. The majority of brand new condensing units will come charged with refrigerant that is good for 15ft of line set (Unless they are R22 condensers). Adjust the refrigerant charge per manufacturer specs. Sub-cooling for TXV's and Superheat for pistons and other fixed metering devices