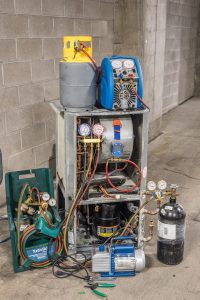 So you just graduated hvac school and are looking to get some of the best hvac tools to start of your career. Maybe you are taking apart of an apprenticeship program and looking for some on the job training. You are going to need your own reliable tools.
I've seen many posts about the best HVAC tools lists and lots of them leave out tools that in my opinion will make your life easier. So to be as accurate as possible I took a picture of my most used HVAC tools that I think would be valuable to a technician.
There are still some pictures missing, mainly because I've misplaced some of my hvac tools. But will update this post with more pictures as I find them or buy new ones.
I'm not going to post pictures of my screwdrivers and wrenches. But just mainly the ones that are designed for an HVAC service technician. Not an installer or sheet metal fabricator, engineer, etc.
I will divide this post into two sections. The best hvac tools list for service technicians that are doing on the job training. Then the ones that you are going to need once you have your own van or truck.
Hvac Tools List for Entry-Level Service Technicians
11-1, 10 in 1, etc, multi-purpose screw driver. Carry this on you at all times. Don't be asking your trainer to borrow his. It's annoying and shows that you are unprepared. It should have the Phillips bit, Flathead bit sizes #1 and #2, 1/4″, 5/16″ and 3/8# nut driver as well. They also make 11 in 1's that have a shraeder valve core tool which can come in handy.
Good pair of wire strippers. Spend up for these. Nothing sucks more than cutting wire with a shitty pair of wire strippers. The wire should be stripped in the matter of seconds on the first attempt. This will save you tons of time and tons of frustration if you spend up here.
Heavy Duty Tape Measure 25-50 ft. For service technicians this is something you always want in your tool bag.
Pliers. Get a full set. You want small, medium, big, needle nose, etc.
Crescent Wrenches. Again, you want small, medium, big etc.
Allen Wrench Set. Get metric AND standard.
Sheers. Metal cutters, side snips, and some heavy duty scissors.
Variety of screwdrivers and nut-drivers. The most common type of nut driver you will be using as a service or maintenance hvac technician will be 1/4″, 5/16″ and 3/8″. Get big and small insulated flathead and Phillips screwdrivers as well. Also recommend getting a giant Flathead screwdriver, and naming it. It will save your ass trust me. Naming part is optional but encouraged.
Tubing cutters. For an entry level tech learning on the job hvac training you can probably get away with a size that will cut as small as 1/4″ up to 1″ 1/2. As your career progresses you will need to invest in bigger sized tubing cutters.
Hammer. Because, a hammer always comes in handy. Don't buy, or use a small hammer either, you will get laughed at.
Multi-meter. You should have a good multi-meter, no exceptions. You should have one that can test a/c and d/c voltage, amps, temperature, and microfarads. Your main meter should also be true RMS as you want to have the most accurate, and best hvac tools when testing voltage and amps on equipment.
Temperature clamp. One that plugs into your meter. Lots of meters come with these.
Flashlight. Spend up and get a bright compact one you can throw on your belt. Don't be asking your hvac trainer to borrow theirs.
Cordless drill. I recommend a 24volt Dewault or Milwaukee. They can take a beating and last forever. Also get a good set of bits to go with the drill.
Refrigeration gauges. Also get a low-loss fitting for the red hose. As your hvac career progresses I recommend multiple sets of gauges. A fancy set such as the SSX34. A set for system evacuation ONLY. And a couple of general working sets as well.
Core removal tool. This is one of the best hvac tools in my opinion and has saved my ass many times.
PVC cutters. I like to have the wire type as well as the hand tool as there are situations where the handheld pvc cutters wont work if a drain line is too close to a wall.
Coil fin straightener. Just get it. It's cheap and useful.
Heavy duty sprayer. Used to clean evaporator and condensing coils.
Optional HVAC tools List for getting started
Gerber or similar type of multi-tool you can throw on your belt. When I was in the field I used my Gerber several times a day.
Head lamps. Corded lights. Because attics and basements can be dark in spots and it's makes it easier to service equipment when you can see.
Digital Thermometer. They make ones specifically for hvac. Fieldpiece, Fluke, all the best hvac tools distributors have their own style. I get mine from the grocery store though. A digital meat thermometer will work fine. Get several, as you will probably leave many of them stuck in a supply or return vent somewhere.
Infrared digital thermometer. I don't use this to take record able readings. I use it to check for overheated breakers, compressors, motors, or just to point at a vent to show the customer their hvac system is cooling, heating.
Sawzall. I recommend getting one of these because they are bad ass and can cut shit. Don't be cutting copper lines though to open up a refrigeration system.
Caulking Gun.
HVAC tools List for Repairs
Some of these hvac tools are on the high-end when it comes to cost. The HVAC companies that I worked for in my career would sometimes supply these. However, if you plan on making this a career you should look into owning all of these tools. Plus they come in handy if you do side work.
Hvac Tools List for Safety
Good pair of gloves. Ones that you can actually hold screws with and stuff. Even better if they allow you to use your touch screen on your phone.
Safety Glasses
Ear plugs. Ear muffs. Protect your hearing. Huh?
Good shoes. Recommend one with a heel, and non-slip. Helps when your climbing ladders all day.
Hard Hat
Optional Tools to Make HVAC Life Easier
Beach Umbrella
Better yet, pop up tent. Hot days shade yourself from the sun. Stay dry and keep working when its raining, good for installs.
Separate tool bags for different jobs. Have one fully stocked for troubleshooting, one for maintenance, and one for repairs. A flat portable cart works great for moving around heavy gear, such as compressors, torches, etc.
This is the best HVAC tools list that I can come up with, and I own all of these and only took me a couple of years to get them all. They will make your life easier and make you a more efficient technician. The more efficient you are, the more money you can make. The more happy your customers will be.
You will also notice that all of these tools are dirty and look worn. I suggest when you purchase your list of hvac tools to get you started, that you drop them a little bit. Throw some dirt and oil on them. You don't want to have a bunch of shiny new tools in your work van. It'll make you look like you don't do any work.
Have a suggestion that should be added to my HVAC tools list? Leave a comment below and I will add it in here.